Not all biodegradable materials are created equal.
Many include plastic, which is treated with biodegradable additives, and in some cases, they are partially composed of natural alternatives such as wheat fibre. Under the right conditions, microbes from the surroundings will break these materials down much more quickly than conventional plastics.
This is a huge move forward, as conventional plastics remain in the environment for hundreds of years once discarded. However, a speedy breakdown is also dependent on perfect conditions, often requiring industrial composting. This limits the ways we can correctly dispose of these products.
Others, however, eliminate plastic altogether, and will break down in a much broader range of conditions, even buried in your garden.
With an elegant, honeycomb-like casing, clip and push-button made from biobased, biodegradable polymers, the QS40 True Biotic from Prodir employs the latter.
True Biotic was developed in cooperation with MAIP, a leading innovator in sustainable plastic solutions, and uses their IamNature® PHA bioplastic, winner of the Global Bioplastics Award.
Unlike PLAs like wheat plastic, the production of PHAs requires no land or chemical fertilizers, while water consumption is negligible.
Instead, IamNature® is sustainably generated through natural processes and combined with minerals that provide water-repellent properties, natural-based colours, and vegetal based additives to create True Biotic. Chemicals are completely eliminated.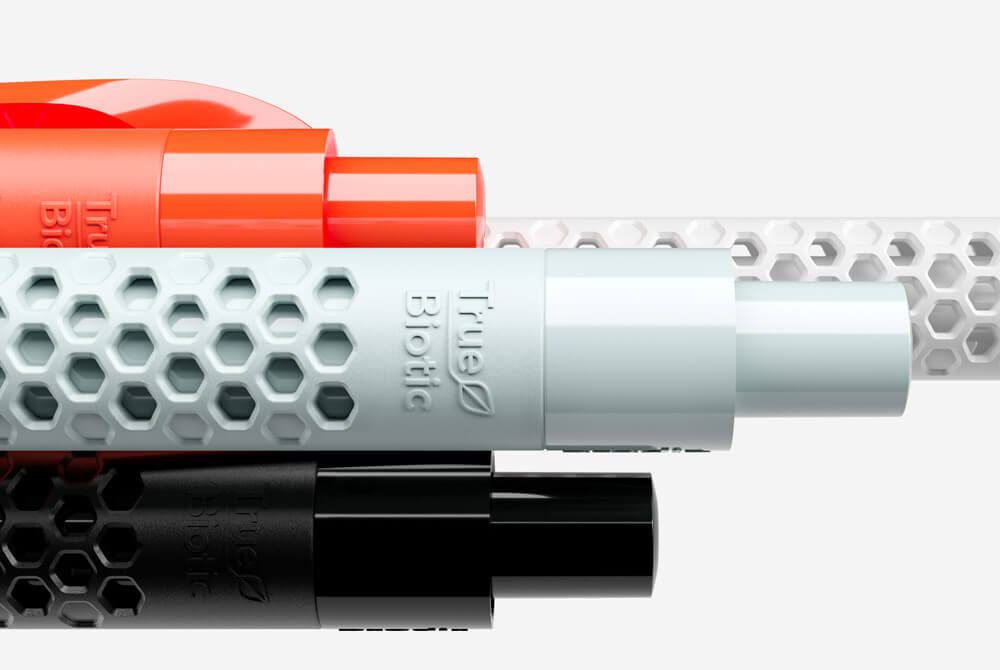 To top things off, the pen's packaging paper is made from FSC certified pulp combined with algae, collected from the sensitive marine environment of the Venice Lagoon.
With the QS40 True Biotic, Prodir is re-writing the rules on sustainability.
If you're interested in finding out more about the QS40 True Biotic, or how biodegradable products could suit your campaigns, get in touch with the Project Merchandise team on 0203 488 7171, or email [email protected].