Creating an impactful suite of branded promotional items to thank investors following a successful funding round
The Challenge:
To exceed investor expectations with a beautifully branded selection of sustainable branded gifts capturing the splendour of the colourful VitraCash branding.
The Outcome:
An eco-friendly suite of vividly coloured and printed items, separated into tiered gift boxes and shipped to over 140 investors in the UK and EU to surprise and delight.
---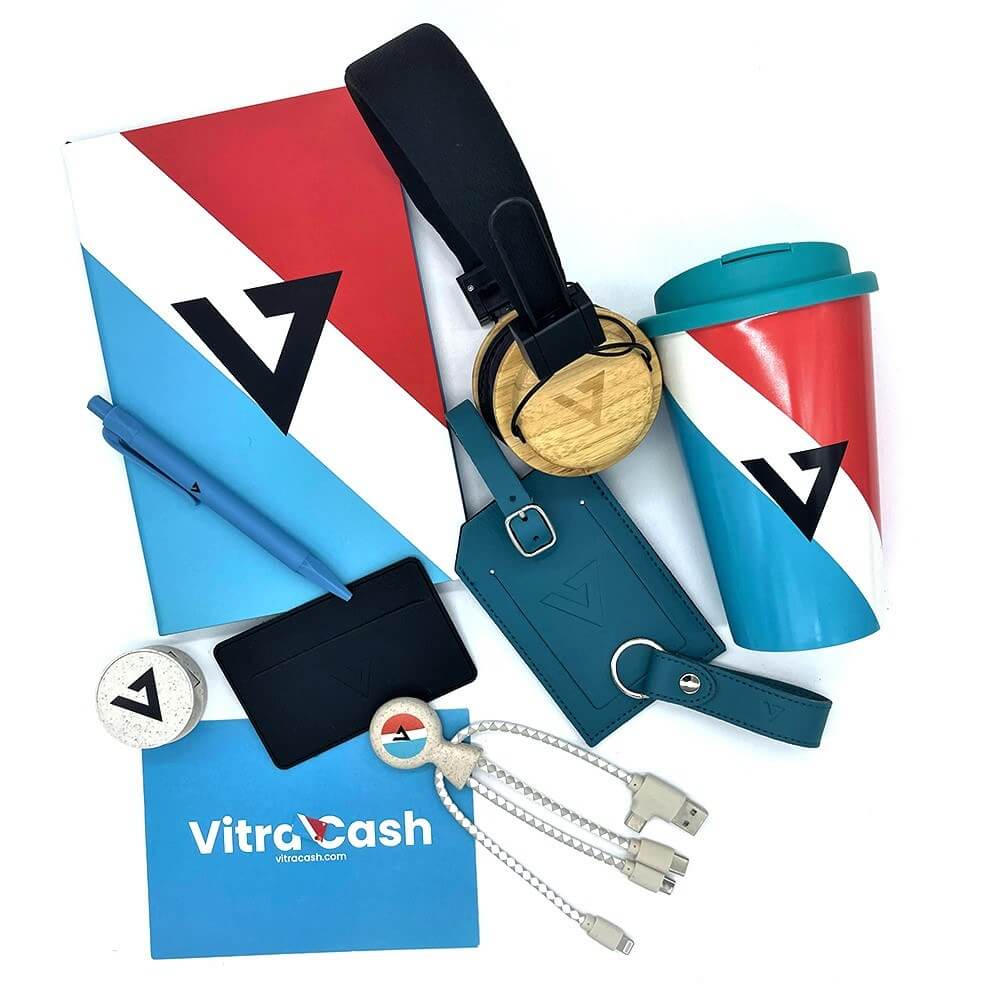 About The Project
After learning that VitraCash was seeking investment for its soon-to-launch AI smart payment platform, Project Merchandise approached the emerging fintech company to support its campaign with investor rewards.
At the heart of VitraCash, a passion for the planet, paired with our green ethos and sustainable merchandise offering made Project Merchandise the perfect promotional partner for the campaign – As part of the project, VitraCash wanted to give back to the planet, pledging to plant a tree for every investor, regardless of their contribution.
As the investment drive continued in the foreground, we got working behind the scenes to curate a collection of eco-conscious and useful merchandise items to feature the company's marque, delighting the recipients of each pack.
An important consideration on this brief was that the items needed to make sense not only as a complete set, but also when broken into three tiered offerings, to reflect the level of investment. Perhaps more crucially, the proposal needed to be comprised of items that could be exported without difficulty.
Building on GM Ryan Evans' initial suggestions, we proposed a range of suitable items from which VitraCash made their final selection, 12 items including stationery, drinkware, and tech.
The Final Merch Pack
A digitally printed A5 notebook was one of the highlight pieces. Filled with recycled paper pages, it features the VitraCash branding as an all-over print to the front and back cover. The same full-colour branding was carefully adapted and replicated across a pad of A7 recycled paper sticky notes, Mr Bio wheat multi-cable, and a travel mug.
The UK-made Brite Americano mug allows for a full-colour wrap print, and the wide range of lid colours meant we were able to closely match the company's branding.
The Terra corn pen, made from corn-derived bioplastic, and a wheat straw phone holder were printed with 1 colour logos, while a selection of recycled and vegan leather products were embossed with the brand emblem for a premium finish.
The final item, a pair of bamboo headphones with an rPET headband, were branded with engraved V icons to both ear cups.
After sourcing natural postal boxes the sets were rounded off with an A6 branded postcard and packed into three tiers to reflect the level of investment by each recipient. These boxes were then sent on their way to over 140 addresses across four countries.
In line with the Project Merchandise climate pledge, we were able to help VitraCash deliver on and surpass their goal of a tree per investor. Through their order, 575 trees will be planted, and 11.5 tons of CO2 will be reduced via carbon offset projects.
---
"The team at Product Merchandise were wonderful to work with, right from the get-go with Chris, through to getting everything delivered and liaising with Alexandra.
They made the whole process extremely easy, punctual and ensured we were happy along the way.
We will definitely be using Project Merchandise again in the future!"
Ryan Evans – General Manager, VitraCash
---
Items:
Recycled Paper A5 Notebook with All Over Print Cover
A7 Sticky Notes
Brite Americano with Spillproof Lid
Bamboo Headphone
Terra Corn Pen
Mr Bio Wheat
E-Leather Luggage Tag
E-Leather Key Fob
Bio-D Card Case